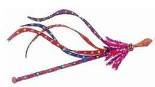 ……the power is within you!
The breakthrough techniques that I use in my Healing Practice help my clients truly awaken their inner powers to achieve health, wealth and happy relationships. The symbolism of the Magic Wand is important and represents that the power to change is within you, when you tap into the right source and approach. My goal, with you, is to breakthrough your major challenges by bringing awareness to why they are happening and creating an integrated plan to eliminate these destructive behaviors from your life. We start with an initial consultation for two (2) hours, in person or over the telephone, where we will focus on a number of key areas including:
Major Challenges & Pain Points….this is an opportunity for me to better understand you, your perspective & your life situation
Belief Systems……we will explore your current beliefs & their impact on your life; are they supporting you?
Relationships……we will examine the state of current relationships & ways to create loving relationships
Emotions…..we will discuss your emotions, as well as techniques for releasing anger, resentment & negative emotions
Health…..the current state of your health. I will develop a specific plan for you involving herbal medicine, vitamins and minerals to promote a healthy immune system
At the end of this initial session, we will determine the best approach for your journey. Some clients see me weekly, monthly or even quarterly depending upon their situation. My personal goal is to accelerate your healing process, not prolong it! I may also discuss a number of other healing techniques including the Soul Retrieval – an ancient art of Shamanic Journeying into the Dreamtime to access wisdom & healing for the client; the Past Life Regression – a process to facilitate past lives to better understand oneself; and the Archetypal Chart – a universal method of determining your specific personality traits.
In addition to the videos above, here's a few examples of what other clients say about their personal experiences in working together:
"…..my perspective on life is very different now. I am beginning to believe in myself and see the many possibilities that lie ahead, thanks to Cynthia"
"….amazingly powerful and something that I understand & practice every day"
"….Wow, my eyes and heart are open. Thank you for teaching this through your fascinating approach"
"….I finally understand why my relationships always ended the same way. I have broken that pattern forever!"
"….Cynthia is a Shaman Healer that lives in this world!"
I am constantly asked by potential clients, if my Magic Wand Healing program is right for them. Here are a few simple Self Assessment questions, so that you can make that determination for yourself:
1. Are your Major Challenges & Pain Points negatively affecting your life and stopping you from progressing toward your goals & dreams?
2. Are your current beliefs, an obstacle to achieving your dreams?
3. Are your current relationships creating some challenges in your life?
4. Are you angry or harbor negative feelings and resentment toward others?
5. Are your current emotions extremely high or low and effecting everyday life?
6. Are you overweight or have health issues?
An open-minded heart and soul for change is all you need to start your exciting & rewarding journey of self-discovery!  Email me today at [email protected] to set up an appointment.